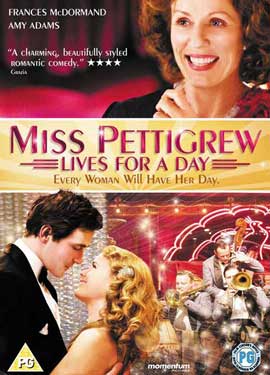 Miss Pettigrew is the impoverished daughter of a vicar who has been turned out by her employer once again. In desperation, she goes to the employment agency, and gets assigned to a Miss LaFosse, presumably to help in the nursery as a governess.
When she arrives at Miss LaFosse's flat, she finds a woman in a silky robe, a strange man inside, and a boatload of romantic entanglements that need her special brand of common sense.
This is such a fun and lighthearted novel. The characters are delightful and the situations Miss Pettigrew confronts are very amusing. As it is written in the 1930s there are…sentiments…that one might disagree with (mainly, "Oh, dear, but I think the young man has some Jew in him, poor fellow" kind of sentiments); but the whole of the novel is something pleasant and memorable. Seeing how Miss Pettigrew handles being the proverbial fish out of water, and how she inadvertently makes everything end up okay, is wonderful.
The film is just as pleasant and fun. Poor Miss Pettigrew discovers her employment error when she goes to wake "Philip" and discovers a naked man (we only see the backside, thankfully). It all gets increasingly funny from there. Miss LaFosse is ditzy and silly, but goodhearted and kind. Ciaran Hinds is romantic as ever, and, while it is unfortunate Edythe gets relegated to the role of female villainess, Shirley Henderson plays it with obvious fervor. It is also set on the verge of WWII, which gives Miss Pettigrew and Joe something to bond over, as the young people didn't experience the last war.
Also, the movie has a fantastic jazz soundtrack. Both the book and the movie are a re-read/re-watch.