The Crimson Horror
TROUBLE AT THE MILL!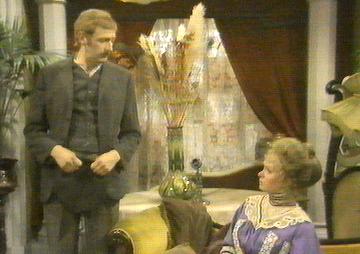 Madame Vastra and her crew are investigating strange deaths in which the victims' skin turns red. To their surprise, they discover that their eyes do indeed show the last thing they saw-and the last thing one of them saw was the Doctor.
TO THE PLOT!
Mrs. Gillyflower has a weird little cult thing going on, showing off her scarred daughter as proof that society is terrible (because Mr. Gillyflower abused the girl). Also, she's predicting the end of the world. Big deal, lady! The Earth has an apocalypse every week or so in this universe! Ada, the scarred, blind girl, has a pet, a monster chained up within the Sweetville mill. Jenny discovers that it is the Doctor, suffering from the Crimson Horror. Once he's restored via a super magic wizard chamber, he gives us some backstory. But not before kissing Jenny in gratitude, who doesn't swing that way and slaps him.
He and Clara joined the mill; the Crimson Horror was a way of preserving people for a post-apocalyptic YA novel. It didn't work on the Doctor, but Ada became attached to him. Now that he's free, they rescue Clara (confusing everyone, since last time they saw her she was dead), and Madame Vastra discovers what is causing the "Crimson Horror". Mrs. Gillyflower is harvesting venom from a red leech. She plans on spreading the poison over the world (via a steampunk rocket, because everyone loves steampunk rockets). Only her "perfect" people, preserved in houses, will survive.
Mr. Sweet of Sweetville is a red leech that has attached himself to Mrs. Gillyflower, because Doctor Who loves having bugs attached to people. The Doctor also reveals that Ada wasn't blinded by her abusive father; she was blinded by her mother's experiments on her. The crazy woman tries to take her daughter hostage, but Madame Vastra and Jenny already nicked the vat of poison, and Strax is an angry potato with a gun. He misses, but Mrs. Gillyflower falls to her death. Ada smashes the leech with her cane, as everyone except the Doctor would do.
Behold our villain. Tiny, and infinitely smooshable.
Clara returns home, only to find the kids she babysits have discovered pictures of her past selves. When Clara gets confused, and says she was in Yorkshire, not London...the game is up. They use this to blackmail her into letting them take a time travel trip. She didn't expect a kind of Spanish Inquisition!
I loved the focus on the Paternoster gang in this episode. From what I understand, this was supposed to be testing the waters for a spin-off, but nothing came of it. Alas. Strax apparently gets sugar rushes from eating sherbet. He also obtains a GPS named Thomas Thomas. Those waifish street urchins were all the rage back then.
It was also straight up creepy: it's basically a Victorian temperance/morality campaign dropped into the middle of a penny dreadful, and it works so well. Mrs. Gillyflower is appropriately horrible, and Ada was a very engaging character.
Also, the Doctor remembers spending too much time trying to get a "gobby Australian" to Heath Row.
Look, the joke payoff finally made it!
Nightmare in Silver
Last time on Doctor Who, Clara's delightful charges were blackmailing her for eventually will have scattered herself throughout space and time. Children are jerks. So the Doctor takes them all to a famous theme park.
NO NOT THAT ONE
But it doesn't matter, because the theme park is under...military occupation. That's gotta be a fun assignment, right? Anyways, the Doctor uses his psychic paper to convince the captain that he is an ambassador from the emperor. They get a tour from the theme park operator, meet a dwarf named Porridge who sometimes teaches Charms, discover that the Cybermen were TOTALLY AND COMPLETE DEFEATED A THOUSAND YEARS AGO AND THESE CYBERMEN CANNOT BE ACTIVATED AT ALL, FOR REALZ YOU GUYZ
Oh, let's just cut to the chase. The Doctor finds Cybermites, which are kind of like tiny Cybermats, which are adorable. The Cybermen reactivate, because we all saw that coming a mile away, and the theme park operator Webley, along with the kids, are partially upgraded. Cybermen do only partial upgrades now? What a bunch of slackers. At least they've gotten an Iron Man aesthetic going on. They're Marvel fans! Good on them. The military is no help; they're actually on punishment duty, because they're basically the worst of the worst. Why are they even allowed in the military then...?
Apparently the Cybermen were defeated by blowing up an entire galaxy. Blowing things up is the go-to solution.
There's a reason he's nicknamed "John Nukem Sheridan".
The Doctor puts Clara in charge of the army and asks her to make sure they don't blow anything up.
I...have something to say about a later episode in which Clara is in a similar situation, but let's just wait till we get there, shall we?
The Doctor gets himself partially upgraded too. He is now
Locutus of Borg
the Cyberplanner, Mr. Clever. Yes, an upgraded Doctor still has his ego and sense of humor fully intact.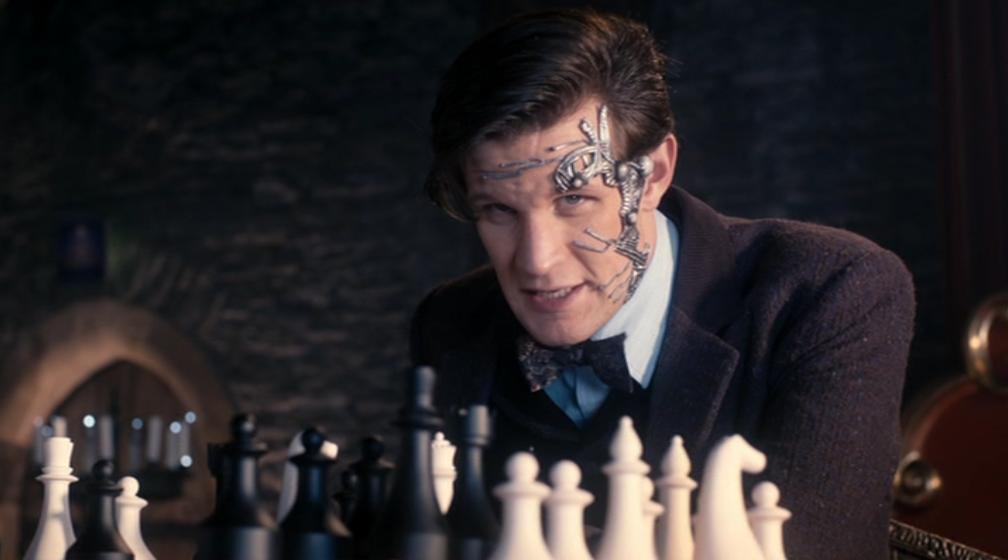 RESISTANCE IS FEZZES. Wait, what? YOU HEARD ME.
So the Doctor and Mr. Clever play a chess game, and yes everyone made Pixar chess game jokes. Luckily the Cybermen are still bizarrely vulnerable to gold. You'd think they would have fixed that by now?
Meanwhile, Clara takes away the bomb detonator, and the Cybermen kill the captain before she can use voice command. The army struggles, but unfortunately the Cybermen's foray into the Star Trek universe allowed them to have
tea with the Borg
, and now they're actually effective. Their collective consciousness allows them to upgrade and adapt very quickly. So the Doctor saves the straggling army by using his own ego against him. I bet you I can win in three moves! Mr. Clever promptly diverts his entire army to figuring out a chess game. This gives the Doctor enough time to activate a pulse which gets rid of Mr. Clever.
I love the power glove. It's so bad.
They fetch the TARDIS, and Porridge, who is actually the emperor, voice activates the bomb and teleports everyone away to his ship. He then proposes to Clara, who finds the idea of ruling a galaxy to be a bit overwhelming.
So this was awesome. We always wondered what would happen if the Doctor were ever upgraded, and here it is. With all the logic of the Cybermen he is...even more ridiculous than before. And I loved every minute of it.
The Name of the Doctor
We open on a very confusing montage of Claras. Clara on Gallifrey, redirecting the First Doctor to the TARDIS. Clara trying to chase down Bessie. (As we all would.) Seeing the Second Doctor on an adventure with the Eighth Doctor (a reference to the first Eight Doctor novel, in which he met his previous incarnations?) Clara watching the
Seventh Doctor climb over a railing
for literally no reason at all.
Meanwhile, Strax is hanging out in Glasgow, because he loves the Scottish. This makes complete sense. Madame Vastra arranges for a psychic meeting-everyone has to be unconscious for this, so Clara gets a letter covered in a soporific substance, which isn't creepy at all, Madame Vastra.
ALSO RIVER IS THERE, RIVER I THOUGHT WE WOULD NEVER SEE YOU AGAIN
"Don't mind me, I'm just being better than all of you right now."
The point of this meeting? Something is trying to alter the Doctor's reality, and to stop it, he has to go to Trenzalore. Before they can get much further, Jenny remembers that she forgot to shut the front door...and is nearly killed by the Great Intelligence, and his HORRIBLE HORRIBLE THINGS HE CALLS WHISPERMEN, WHAT IS WRONG WITH YOU YOG-SOTHOTH, GET BACK TO YER NEW ENGLAND PLOTS
Clara pulls herself out of the meeting, and finds that the Doctor is playing Blindman's Bluff with the kids. Except they left to see a movie, and he's been wandering the house blindfolded for a while. When Clara tells him what's going on, our poor 11 actually starts crying. See, Trenzalore is where his grave will be-he will die there in battle. It's also the grave for the TARDIS, and when they go there, the Doctor has to shut her off so they can land.
There, they find the future TARDIS, whose dimensional field is breaking down, and she has become enormous. She has actually merged with the ground, and her memories show up as gravestones. River, still in psychic connection with Clara, follows her and the Doctor into the tunnels under the fields.
There, at the entrance to the tomb, is the Great Intelligence, with the Paternoster gang held hostage by his Whispermen, WHO ARE STILL HORRIBLE MIGHT I REMIND YOU. He demands that the Doctor open the grave, which can only be done by saying his name. He refuses, but River does.
The Doctor's corpse is essentially his impact on the time-space continuum, which is really cool.
Everyone gets to become shiny in science fiction.
The Great Intelligence enters it and begins changing everything about the Doctor's life. Jenny disappears, since it was the Doctor who saved her; Strax reverts to being a typical Sontaran, and has to be killed by Vastra. The stars start going out. Is this like the stars being right? I'm not sure if Yog-Sothoth is even focusing on that right now.
That's when Clara realizes what her various incarnations mean. She has to enter the Doctor's timeline too, and fight the Great Intelligence every step of the way. She does so, and we get a call-back to the montage at the beginning.
Everything is restored. The Doctor reveals he was aware of River the whole time, and finally gets a chance to say goodbye properly. Then he jumps into his timeline after Clara to bring her back out.
And there they find another Doctor in amongst the ones we already know. He is in shadow, and the Doctor is terrified of him. But Clara already knows-this one isn't called the Doctor. He did something so horrible that he dropped that title...
HE IS JOHN HURT AND HE NEEDS ALL OF THE HUGS
I loved this for the explanation about Clara and the Great Intelligence, and for the introduction to the War Doctor. The Whispermen were incredibly creepy. No eyes! Too many sharp teeth! What is wrong with Steven Moffat? Everything, that is what. Also, the Great Intelligence name drops the Valeyard, just to tease the fans some more with the plot line that will never be.
"Sure is a nice series you have there Moffat. Be a shame if something...happened to it."
Also, Strax doesn't understand hair, so he assumes that River's hair just means that she has a very large head.
Strax is best Sontaran.